Look of the Week: Kaia Gerber is the spitting image of mother Cindy Crawford in Alaïa outfit
Over the weekend, model and actor Kaia Gerber attended Hollywood's 2nd Annual Academy Museum Gala in Los Angeles in a timeless, if not slightly subdued, Alaïa black mesh turtleneck top paired with a deep purple draped skirt. The look generated a lot of buzz online, with Twitter users pointing out the combination of Gerber's silky, bouncy blowout and soft, earth-toned glam — complete with a pop of lilac eyeshadow — brought about an uncanny resemblance to mother Cindy Crawford.
One of "The Big Six" — an affectionate nickname for the group of 1990s supermodels that also featured Naomi Campbell, Christy Turlington, Kate Moss, Linda Evangelista and Claudia Schiffer — Crawford's career as one of the most successful and recognized American models spanned 14 years before she officially quit the game in 2000. Her daughter with American businessman Rande Gerber, the now-21-year-old Kaia Gerber, was born in September 2001 — two years after her brother Presley.
It didn't take Gerber long to follow in her mother's footsteps, shooting her first campaign for Versace aged 10 and appearing in Italian Vogue at 14. (Presley Gerber also embarked on a brief stint in the industry in his teens). Since then, Gerber's star has risen on the modeling scene, and her career has already featured numerous parallels with that of her famous mother — both have walked for Versace, Chanel, Michael Kors and Valentino, and have numerous Vogue covers under their belt. 
They've even starred on a couple together
. "Never in my life did I think I would have our professional lives collide like that," Crawford told Vogue in 2019 after the pair walked the Versace Spring-Summer 2018 runway together.
Comparisons between Gerber and
Crawford
are by no means new — on Gerber's Instagram, any photo featuring her mother is typically flooded with comments calling the young model Crawford's "clone" or "twin." Entire articles have been dedicated to chronologizing all the times the pair looked identical, but these moments are at their most compelling when Gerber is, intentionally or not, echoing her mom's style. 
At the 75th Cannes Film Festival in May
, Gerber wore an uber-minimalist Celine halter neck in firetruck red — the straps and color reminiscent of a Fall-Winter 1993 Giorgio Saint'Angelo look Crawford modeled in 1992. On Sunday evening, the model's outfit was layered with meaning: from the quintessential '90s sheer fabric — beloved by Moss, Gwen Stefani, Jennifer Lopez and Drew Barrymore, among others, during that decade — to her side part and sleek tresses (known to Gen Z TikToker's as "Cindy Crawford hair").
Even the choice of label was a nod to her mother — Gerber's dress was from the fashion brand Alaïa's Spring-Summer 2023 collection; the label's late founder Azzedine Alaïa consistently booked Crawford for runway shows from the late '80s well into the '90s. "Alaïa was my uniform for many years.,"
Crawford
told ecommerce platform Net-A-Porter in 2018. "I would always throw in a black Alaïa dress when packing for trips because you would never know when you might need that dress."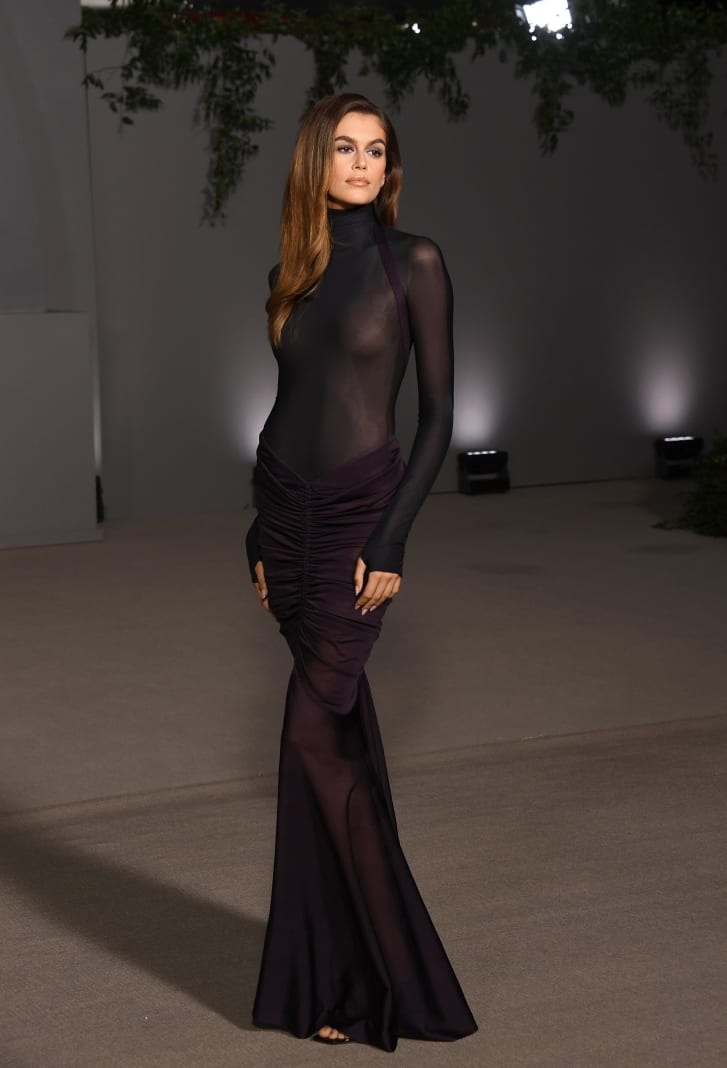 The fashion world's current obsession with '90s styling shows no sign of slowing, and the sheer trend in particular has even enjoyed a revival. Across the runways this season, designers were playing with perspective through translucent tailoring, from Coperni's sage green, see-through twist tops at Paris Fashion Week to Chanel's sheer subversion of the classic skirt suit — complete with an entirely transparent blouse hemmed by a knitted neckline and two well-placed knitted pockets. Vintage mesh is having a moment, too. Propelled by Gen Z style icons Bella Hadid, Dua Lipa and Kylie Jenner, printed sheer tops with loud clashing patterns are considered the height of style. Archival Jean-Paul Gaultier mesh tops beaming with contrasting collages, for example, now retail for upwards of $300 on resale apps like Depop.
Instead of hopping on the trend, Gerber kept it classic and minimal — after all, she need only raid her mom's closet to bring out the best the decade had to offer.
Top Fashion Brands In The World
The fashion industry is home to numerous iconic and influential brands that have made a significant impact on the global fashion landscape. Here's a list of some of the top fashion brands in the world, known for their innovation, quality, and cultural influence:
Louis Vuitton: Louis Vuitton is a luxury fashion brands renowned for its leather goods, including handbags, luggage, and accessories. It's known for its monogram canvas pattern and has a long history of craftsmanship and prestige.
Gucci: Gucci is an Italian fashion brands that's synonymous with luxury and style. It offers a wide range of products, including clothing, handbags, shoes, and fragrances. Gucci is known for its bold designs and distinctive double-G logo.
Chanel: Chanel, founded by Coco Chanel, is famous for its timeless elegance and classic designs. The brand is known for its iconic Chanel suits, little black dresses, and quilted handbags.
Prada: Prada is an Italian luxury fashion house known for its avant-garde designs and high-quality materials. It offers clothing, accessories, and fragrances with a focus on minimalist aesthetics.
Versace: Versace is an Italian luxury fashion brands known for its bold and colorful designs. It's famous for its Medusa logo, which is a symbol of power and glamour.
Hermès: Hermès is renowned for its high-end leather goods, including the iconic Birkin and Kelly bags. The brand is known for its exquisite craftsmanship and dedication to quality.
Dior: Christian Dior, often referred to as Dior, is a French luxury fashion brands celebrated for its haute couture and ready-to-wear collections. It's known for its elegant and feminine designs.
Burberry: Burberry is a British luxury brand known for its distinctive check pattern and trench coats. It offers a wide range of clothing, accessories, and fragrances.
Ralph Lauren: Ralph Lauren is an American fashion brands known for its preppy and classic style. It encompasses various lines, including Polo Ralph Lauren and Ralph Lauren Purple Label.
Balenciaga: Balenciaga is a French luxury brand that's gained popularity for its innovative and unconventional designs, including oversized silhouettes and bold logos.
Yves Saint Laurent (YSL): YSL is a French fashion house known for its modern and edgy designs. It's credited with popularizing the tuxedo jacket for women.
Off-White: Off-White is an Italian streetwear brand founded by Virgil Abloh. It's known for its urban-inspired designs and distinctive use of quotation marks in its branding.
Fendi: Fendi is an Italian luxury brand celebrated for its fur and leather products, as well as its iconic Baguette bag.
Givenchy: Givenchy is a French fashion house known for its chic and sophisticated style. It's famous for dressing celebrities and royalty.
Valentino: Valentino is an Italian fashion brands known for its romantic and luxurious designs, including red-carpet gowns and Rockstud accessories.
These fashion brands have left a lasting mark on the industry and continue to shape global fashion brands. They cater to a diverse range of styles and preferences, making them influential and admired by fashion brands enthusiasts around the world.
SEO-Optimized Guide to Achieving Radiant Skin with Face Polish
SEO Meta Description:
Discover the secrets of achieving flawless skin with the power of face . Our comprehensive guide covers everything you need to know about this beauty essential.
Introduction
In the quest for radiant and youthful skin, one skincare essential often stands out – face polish. This unassuming product can work wonders, leaving your skin smooth, glowing, and blemish-free. In this comprehensive guide, we will explore the world of face polish, diving deep into its benefits, how to use it effectively, and addressing common questions about this beauty ritual. So, let's embark on this journey towards achieving that enviable complexion!
Face Polish: Unlocking the Glow
Face polish, often referred to as facial scrub, is a crucial component of any skincare routine. It plays a vital role in exfoliating the skin, removing dead cells, and uncovering the fresh, radiant layer beneath. By using gentle abrasives or chemical exfoliants, face polish leaves your skin smoother, more even-toned, and with a youthful glow.
The Benefits of Face Polish
Enhanced Exfoliation: Face polish provides a deeper exfoliation compared to regular cleansers, helping to remove built-up impurities.
Improved Skin Texture: Regular use of face polish results in smoother skin, reducing the appearance of fine lines and wrinkles.
Even Skin Tone: It helps to fade dark spots, sunspots, and acne scars, promoting an even complexion.
Boosted Radiance: The removal of dead skin cells reveals a healthier and more radiant complexion.
Choosing the Right Face Polish
Selecting the perfect face polish for your skin type is crucial to achieving the desired results. Consider the following factors:
Skin Type: Different skin types require specific face polishes. Opt for a gentle, hydrating formula for sensitive skin, and a more abrasive one for oily skin.
Ingredients: Look for ingredients like glycolic acid, salicylic acid, or natural exfoliants such as sugar or rice powder, depending on your skin's needs.
Texture: Cream-based, gel-based, and powder-based face polishes are available. Choose the texture that suits your preference.
Face Polish: How to Use it Effectively
Using face polish correctly is essential to reap its benefits without harming your skin. Follow these steps for a safe and effective experience:
Cleanse First: Start with a clean face. Remove makeup and cleanse your skin with a gentle cleanser.
Apply Gently: Take a small amount of face polish and apply it to damp skin. Avoid the delicate eye area.
Massage in Circular Motions: Use gentle, circular motions to massage the polish into your skin. Avoid applying excessive pressure, especially if you have sensitive skin.
Rinse Thoroughly: Rinse your face with lukewarm water until all traces of the polish are gone. Use a soft, clean towel to pat your skin dry.
Moisturize: Follow up with a moisturizer to replenish lost hydration.
FAQs
Is face polish suitable for all skin types?
Face polish can benefit most skin types when used appropriately. However, individuals with extremely sensitive or irritated skin should consult a dermatologist before using it.
How often should I use face polish?
For most skin types, using a face polish 2-3 times a week is sufficient. Over-exfoliation can lead to irritation, so avoid daily use.
Can I make my own face polish at home?
Yes, you can create DIY face polishes using natural ingredients like sugar, honey, and yogurt. However, ensure you research and follow a safe recipe to avoid any adverse effects.
Can face polish replace my regular cleanser?
No, face polish is not a replacement for a cleanser. It should be used after cleansing as part of your skincare routine.
Are there any side effects of using face polish?
When used correctly, face polish rarely causes side effects. However, improper use or excessive exfoliation can lead to skin irritation, redness, or dryness.
Can face polish help with acne?
Face polish can help improve the appearance of acne-prone skin by unclogging pores and reducing the formation of new blemishes.
Conclusion
Achieving radiant, youthful skin is within your reach with the power of face polish. By incorporating this skincare essential into your routine and using it correctly, you can unlock the secrets to smoother, more even-toned, and glowing skin. Remember to choose the right product for your skin type, and always prioritize gentle exfoliation. So, embrace the beauty ritual of face polishing and say hello to a more radiant you!
Face Polish and Your Skincare Routine
Incorporating face polish into your skincare regimen can yield remarkable results. Here's how it fits into your daily routine:
Morning Routine
Cleansing: Start your day with a gentle cleanser to remove impurities and prepare your skin for the day ahead.
Toning: Follow with a hydrating toner to balance your skin's pH levels.
Face Polish (2-3 times a week): Exfoliate your skin in the morning, but avoid overdoing it. A gentle face polish will help your makeup glide on smoothly.
Serum: Apply a serum that targets your specific skin concerns, such as fine lines or dark spots.
Moisturizer: Lock in moisture with a lightweight, daytime moisturizer.
Sunscreen: Finish with a broad-spectrum sunscreen to protect your skin from harmful UV rays.
Evening Routine
Cleansing: Remove makeup and cleanse your skin thoroughly to get rid of pollutants and impurities.
Toning: Follow with toner to prepare your skin for the next steps.
Face Polish (2-3 times a week): Exfoliate in the evening to remove the day's buildup of dead skin cells.
Treatment Products: Apply any treatment products like retinol or hyaluronic acid, if recommended by your dermatologist.
Night Cream: Use a rich, nourishing night cream to replenish your skin while you sleep.
Eye Cream: Don't forget to apply eye cream to target the delicate skin around your eyes.
Weekly Treatments
Consider adding these weekly treatments to enhance your skincare routine:
Face Masks: Treat yourself to a face mask once a week to address specific concerns like hydration, acne, or brightening.
Facial Steam: Steam your face occasionally to open up pores and aid in deep cleaning.
Face Polish: Beyond your regular routine, use a more intensive face polish once a week to slough off dead skin and reveal a fresh layer.
Common Misconceptions about Face Polish
While face polish is a beneficial skincare product, it's important to dispel some common myths surrounding its usage:
Myth 1: Face Polish Should Be Harsh to Work
Fact: A harsh face polish can do more harm than good. Gentle exfoliation is more effective and safer for your skin in the long run.
Myth 2: Exfoliating Daily Is Better
Fact: Over-exfoliating can strip your skin of essential oils, leading to dryness and irritation. Stick to the recommended 2-3 times a week.
Myth 3: Face Polish Can Erase Wrinkles Instantly
Fact: While face polish can improve skin texture, it won't erase wrinkles instantly. It's essential to incorporate other anti-aging products for visible results.
Myth 4: DIY Face Polish Is Always Safe
Fact: While DIY face polishes can be effective, it's crucial to research and follow safe recipes. Ingredients like lemon or baking soda can be too harsh for some skin types.
Face Polish: A Must-Have for Healthy Skin
In conclusion, face polish is a powerful tool in achieving and maintaining healthy, radiant skin. When used correctly and in conjunction with a well-balanced skincare routine, it can help you address a range of skin concerns, from uneven texture to dark spots. Remember that consistency and gentle exfoliation are key to unlocking the full potential of this skincare gem. So, embrace the beauty of face polishing and enjoy the journey to a more confident and radiant you!
Ladies Coat: Timeless Elegance and Warmth
SEO Meta Description: Discover the timeless elegance and warmth of ladies coats. From classic styles to modern trends, this comprehensive guide covers everything you need to know about ladies coats.
Introduction
When it comes to fashion staples, the ladies coat stands out as an iconic piece of outerwear that combines style, functionality, and warmth. A well-chosen ladies coat can instantly elevate your outfit while keeping you cozy during chilly days. In this article, we will delve deep into the world of ladies coats, exploring various styles, materials, and fashion tips to help you make an informed choice. Whether you're a fashion enthusiast or just in need of a practical winter coat, this guide has you covered.
Ladies Coat: A Wardrobe Essential
A ladies coat isn't just a piece of clothing; it's a statement of elegance and sophistication. Here, we'll discuss why having a ladies coat in your wardrobe is essential.
Classic Versatility
A ladies coat is a versatile garment that seamlessly transitions from day to night. Whether you're heading to the office or a formal event, a classic coat can complement any outfit.
Seasonal Adaptability
Ladies coats come in various weights and materials, making them suitable for different seasons. From lightweight trench coats for spring to cozy wool coats for winter, there's a coat for every climate.
Timeless Elegance
The elegance of a ladies coat is timeless. Investing in a quality coat means you can enjoy its beauty and functionality for many years to come.
Styles of Ladies Coats
Ladies coats come in a wide array of styles, each with its unique charm. Let's explore some popular options.
Trench Coats: Timeless Classics
Trench coats are synonymous with sophistication. With their belted waist and double-breasted design, they offer a flattering silhouette.
Pea Coats: Nautical Charm
Pea coats, with their naval origins, bring a touch of nautical charm to your wardrobe. They are warm, stylish, and pair perfectly with jeans or dresses.
Parkas: Practical and Warm
For extreme cold, parkas are your best friend. These long, hooded coats provide exceptional warmth and are often favored in snowy regions.
Cape Coats: Dramatic and Stylish
Cape coats are for those who want to make a bold fashion statement. They exude drama and elegance with their flowing, open-front design.
Faux Fur Coats: Animal-Friendly Luxury
Faux fur coats offer the opulence of fur without harming animals. They are soft, warm, and eco-friendly.
Choosing the Right Material
Selecting the right material for your ladies coat is crucial for comfort and style.
Wool: Timeless Warmth
Wool coats are known for their warmth and durability. They are perfect for cold winters and can be found in various styles.
Cashmere: Luxurious Softness
Cashmere coats are the epitome of luxury. They are incredibly soft and provide superior warmth while looking chic.
Leather: Edgy Sophistication
Leather coats add an edgy and sophisticated flair to your outfit. They are perfect for creating a bold fashion statement.
Down: Lightweight Insulation
Down coats are incredibly lightweight and provide excellent insulation. They are ideal for those who want warmth without the bulk.
Styling Your Ladies Coat
Your ladies coat can become the focal point of your outfit. Here are some styling tips to help you look your best.
Accessorize Thoughtfully
Pair your coat with accessories like scarves, gloves, and hats that complement its style and color.
Belt It Up
Adding a belt to your coat can cinch your waist, creating a flattering silhouette and adding a touch of elegance.
Mix and Match
Experiment with different outfits underneath your coat. From casual jeans to elegant dresses, your coat can adapt to various looks.
Footwear Matters
Choose the right footwear to complete your ensemble. Boots, heels, or flats can all work, depending on the occasion.
FAQs
Q: Can I wear a ladies coat in warmer weather?
A: While ladies coats are primarily designed for colder seasons, lighter options like trench coats can be worn in milder weather.
Q: How should I store my ladies coat during the offseason?
A: Store your coat in a cool, dry place, preferably on a hanger to maintain its shape. Avoid plastic bags, as they can trap moisture.
Q: What is the best way to clean a ladies coat?
A: Always follow the care instructions on the label. Many coats can be dry-cleaned, but some may be machine-washable or require special care.
Q: Are there eco-friendly options for ladies coats?
A: Yes, you can find eco-friendly options like coats made from sustainable materials or faux fur instead of real fur.
Q: Can I wear a ladies coat for both casual and formal occasions?
A: Absolutely! Many ladies coats are versatile enough to suit a wide range of occasions, from casual outings to formal events.
Q: How do I choose the right size for my ladies coat?
A: Refer to the brand's size chart and consider trying the coat on before purchasing to ensure a proper fit.
Conclusion
In the world of fashion, the ladies coat stands as a symbol of elegance and practicality. From classic trench coats to cozy wool options, there's a ladies coat for every style and season. By understanding the different styles, materials, and styling tips, you can make a fashion statement while staying warm and comfortable. So, embrace the timeless charm of a ladies coat and elevate your wardrobe today!
Maintaining Your Ladies Coat
To ensure your ladies coat retains its beauty and functionality over the years, proper maintenance is key.
Cleaning and Care
Regularly inspect your coat for stains or dirt, and address them promptly. Follow the care instructions on the label for cleaning, and consider professional dry cleaning when needed. Be cautious with spot cleaning and always test a small, inconspicuous area first.
Storage Tips
When the season changes, and it's time to store your coat, follow these tips:
Clean the coat thoroughly before storing to prevent stains from setting in.
Store your coat in a breathable garment bag to protect it from dust.
Add cedar balls or sachets to the storage area to deter moths and maintain freshness.
Avoid hanging your coat on a hook for extended periods, as this can lead to shoulder dimples. Instead, opt for padded hangers that mimic your shoulder shape.
Check on your coat periodically to ensure it's in good condition.
Brands to Consider
While there are countless brands offering ladies coats, a few have stood the test of time and consistently deliver quality and style. Here are some brands worth considering:
Burberry
Burberry is renowned for its classic trench coats, offering timeless elegance and exceptional craftsmanship.
Canada Goose
For those in colder climates, Canada Goose provides top-tier parkas known for their warmth and durability.
Max Mara
Max Mara offers a wide range of luxurious ladies coats, from camel hair classics to modern designs.
The North Face
If you're looking for a sportier option that doesn't compromise on style, The North Face has you covered with their versatile outerwear.
Mackage
Mackage combines fashion-forward designs with warmth and functionality, making them a popular choice for urban fashionistas.
Investing in Quality
When it comes to ladies coats, quality should be a top priority. While high-quality coats often come with a higher price tag, they are well worth the investment for several reasons:
Longevity
Quality coats are made to last, meaning you won't have to replace them as often. This not only saves you money in the long run but also reduces environmental impact.
Comfort
Superior materials and craftsmanship ensure that your coat feels comfortable and fits well, even during extended wear.
Style
Investing in a quality ladies coat means you'll always be in style. Classic designs endure, and well-made coats retain their elegance and appeal.
Resale Value
Should you ever decide to part with your beloved coat, high-quality brands often have good resale value, allowing you to recoup some of your investment.
Conclusion
In the world of fashion, few pieces are as versatile and enduring as the ladies coat. Whether you're braving the cold in a cozy wool coat or making a fashion statement in a sleek leather number, your choice of coat can define your style and keep you warm. Remember to invest in quality, maintain your coat properly, and explore various styles to find the one that best suits your taste and lifestyle. Embrace the world of ladies coats and experience the perfect blend of fashion and function.