Virtual body-shaming: Why the metaverse won't fix our IRL beauty standards
Avatars are nothing new — and nor is the idea that we care about how we look online.
As the drive towards immersive virtual worlds, or "
metaverses
," gathers pace, personalized digital avatars have become more pervasive thanks to games like Fortnite and Roblox. But on the online platform Second Life, users have been able to create and customize their own digital appearances for almost two decades. And it was here that, in 2017, a body-shaming scandal laid bare an uncomfortable truth: Our real-life beauty standards will, invariably, follow us into the metaverse.
The incident began when an in-game fashion brand
allegedly
sent out offensive fat-shaming messages on a group channel. The label then embarked on a bizarre crusade against plus-size women. At its virtual store, which sold digital clothing aimed at thin avatars, the brand erected a "no fat chicks" sign alongside an image of a model wearing a crop top marked "no fat."
Debate in the Second Life community ensued, and fuller-figured avatars began arriving at the store in protest. Some brandished customized placards ("I love you skinny, I love you fat," read one, "diversity is all of that!") while staging a sit-in demonstration.
As writer and longtime Second Life user Wagner James Au 
noted
 on his blog at the time, the foot traffic may have worsened matters by boosting the store's visibility on the platform. The offending label's owner certainly thought so. Another sign appeared thanking protesters for "promoting my brand, my store and my products… for free."
Like most online flare-ups, the controversy 
died down
 within a few days. But according to Au, whose book "Why the Metaverse Matters" publishes next year, ongoing debates about Second Life's customizable avatar shapes revealed a troubling undercurrent among certain users.
"People were saying, 'You can be anything, you can be as beautiful as you want — or can afford — to be, so why are you choosing to be fat?'" he recalled in a video interview from California. "They got angry."
Shifting standards for avatars
Things hadn't always been this way. In fact, during the early years of Second Life, many users didn't even look human, making it difficult to judge them against real-life standards.
"Avatar types used to be much more diverse," said Au. "You were just as likely to find someone who was a fairy, or looked like an anthropomorphic animal or a robot — or some other fantastic combination of various identities — rather than what you might call a 'Sims' avatar that looks like a very attractive person in their 20s."
The shift was, partly, technological. In 2011, amid improving graphics and processing power, Second Life allowed users to create 3D skins, or "meshes," that could be uploaded to the platform. As a result, avatars' appearances became increasingly realistic. On the one hand, this gave users more freedom to create characters that reflected what they really looked like — including those who preferred to appear curvier or heavier-set. On the other, it marked what Au called a "Pandora's box" moment.
"It shifted both the culture and the economy around avatars," he said. "Up until then, there was definitely much more tolerance for diversity of avatar types… But putting a premium on highly realistic, beautiful avatars amplified existing prejudices that we took from the real world into the virtual world."
For those users whose avatars fall "outside the norm," incidents of harassment still happen "all the time," Au added. "Anyone with a large avatar is going to get at least a few nasty comments."
If metaverses represent the internet's next evolution, then platforms like Second Life — often dubbed the first metaverse — offer lessons for our digital future. For one, new platforms must decide how realistic avatars can be, and how much freedom users are given to alter their appearances.
Around 70% of US consumers, from generations X to Z, consider their digital identity to be "important" according to a 
2021 study
 by The Business of Fashion. But, by empowering people to accurately recreate themselves, platforms may open the door to the bullying, harassment and even racism that unfolds in real life if users' appearances don't conform with prevailing beauty standards.
On Roblox, conversely, characters have a distinctly Lego-like appearance with highly simplistic faces, while Fortnite avatars often take the form of bipedal animals or robots. Decentraland avatars appear far more conventionally human. And while Mark Zuckerberg's Meta has yet to unveil its full metaverse vision, the firm also appears to be opting for comparatively realistic figures. (Although cartoonish, the widely publicized 
Zuckerberg avatar
 is unmistakably him.)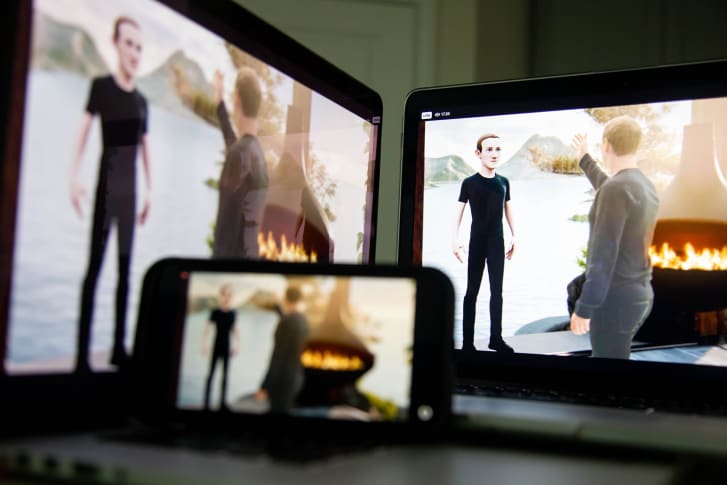 Despite his experiences on Second Life, Au believes that the vast majority of online users want their virtual selves to be either "an idealized version of what they look like, or a completely different persona."
"That's why I'm kind of astounded that Meta is going on the assumption that you want to look like who you look like in real life," Au said.
There is currently little consensus on the matter. How we choose to present ourselves in the metaverse may also depend on what we're doing there. Socializing with friends and conducting work meetings, for instance, might call for significantly different avatars.
It may also vary between demographic groups. In a study 
published
 by the journal Proceedings of the ACM on Human-Computer Interaction, two Clemson University professors found that current virtual reality users "tend to present themselves consistently with their offline identity" when it came to physical features such as skin color and body shape. But this was particularly true of the study's non-White participants, the researchers found.
"For (non-White users), presenting ethnicity is fundamental to create unique self-presentation in social VR," the authors wrote, adding that just like in the real world, these avatars could be subject to social stigmas.
'Freedom in abstraction'
From 
plus-size runways
 to genderless makeup, old beauty ideals are increasingly being challenged in today's world. Eradicating them entirely from the real world is no simple task. But might there be a chance to sidestep these standards in virtual reality?
For artist and beauty futurist Alex Box, the metaverse offers an opportunity to tear down existing aesthetic conventions and rethink how we present ourselves.
"It's very hard for people to imagine who they are without a body," she said on a call from the Cotswolds region of England. "It's a very different set of rules and ways of connecting with your identity if you say, 'You're just a shape, or you're just an object.'
"But obviously, the more you go towards the abstract, the less you go towards body shaming, body logic, boundaries and ultimately everything that's been forced upon us from the beginning of time about the rules of our bodies and autonomy. So, there's freedom in abstraction," she said, explaining that some people may opt for "a representation… of their energy, of their believed personhood, (or) something that is an extension of themselves."
13 Best Red Lipsticks for Dark Skin Beauties to Rock Any Look
Most women feel more confident, stylish, and chic by wearing red lipstick. After all, reds are known for their fierce nature and create stunning lip looks that no one can avoid. Those obsessed with this vibrant shade would love to explore the best red lipsticks for dark skin available on the market. 
Reds are one of the most versatile colors that look great on every skin tone, including darker skin tones. The right red shade aligns your skin complexion and tone, enhances your boldness, and brings out your inner charm. The new-age red lipsticks for dark-skin beauties that are available today are designed in such a way that the shade compliments the complexion without looking gaudy. From deep red to burgundy, we have a wide range of red shades to choose from. 
Based on our first-hand experience, we have curated a list of the best red lipstick for dark skin tones that will empower your beauty in a few swipes.
HOME
SELECT
lipsticks
BEAUTY
13 Best Red Lipsticks for Dark Skin Beauties to Rock Any Look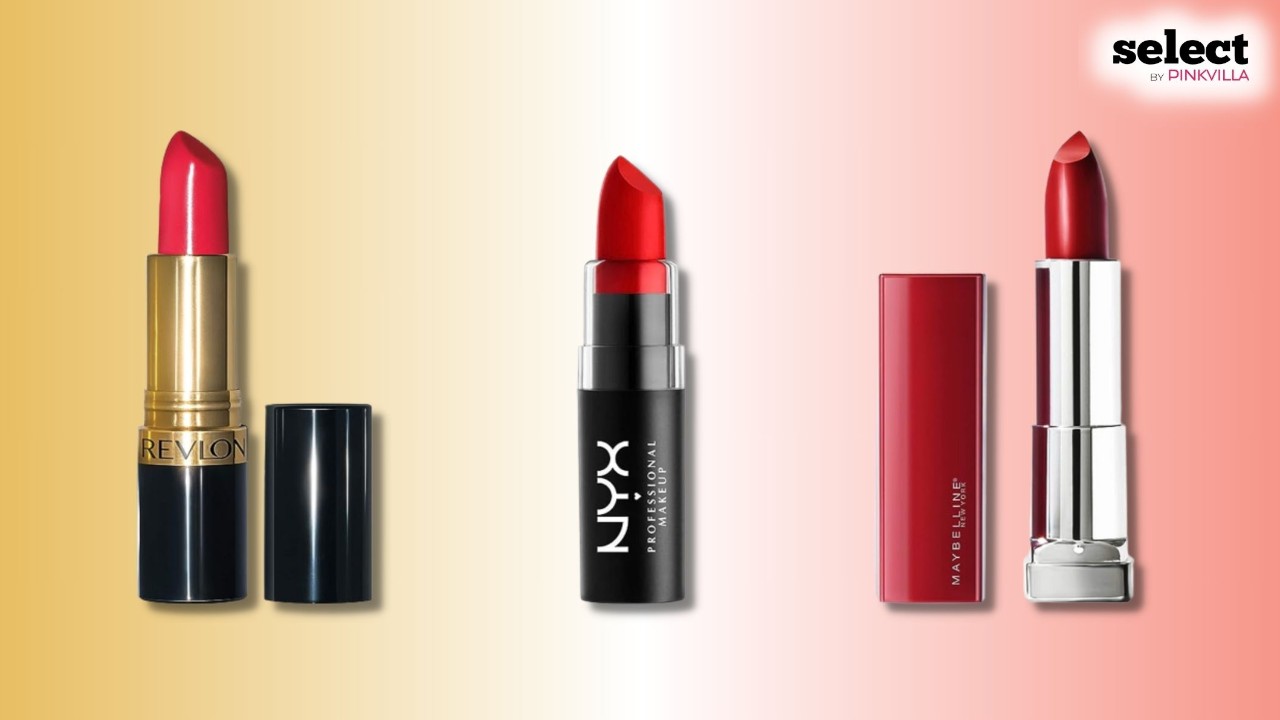 The products curated for this article are independently chosen by the editorial team. If you make a purchase through the links mentioned below, we may receive a commission. Check out our product research & curation process
Most women feel more confident, stylish, and chic by wearing red lipstick. After all, reds are known for their fierce nature and create stunning lip looks that no one can avoid. Those obsessed with this vibrant shade would love to explore the best red lipsticks for dark skin available on the market. 
Reds are one of the most versatile colors that look great on every skin tone, including darker skin tones. The right red shade aligns your skin complexion and tone, enhances your boldness, and brings out your inner charm. The new-age red lipsticks for dark-skin beauties that are available today are designed in such a way that the shade compliments the complexion without looking gaudy. From deep red to burgundy, we have a wide range of red shades to choose from.
Based on our first-hand experience, we have curated a list of the best red lipstick for dark skin tones that will empower your beauty in a few swipes.
IN THIS ARTICLE
13 Best Red Lipsticks for Dark Skin for Charismatic Lip LooksHow to Pick a Red Lipstick for Dark Skin Tone?Which Red Shade Will Look Good on You?Tips to Apply the Best Red Lipstick for Dark Skin ToneFAQ'sWhy Trust Pinkvilla
OUR TOP PICKS
BEST OVERALL
lipsticks
Revlon Super Lustrous Lipstick
Read More
PRICE ON AMAZON
BEST NON-DRYING FORMULA
NYX Professional Matte Lipstick
Read More
PRICE ON AMAZON
BEST MATTE FINISH
Maybelline New York Color Sensational Lipstick
Read More
PRICE ON AMAZON
MOST COMFORTABLE
Milani Color Statement Lipstick
Read More
PRICE ON AMAZON
BEST GLOSSY RED LIPSTICK
Almay Smart Shade Butter Kiss Lipstick
Read More
PRICE ON AMAZON
BEST LIGHTWEIGHT
Wet n Wild Megalast Catsuit Matte Liquid Lipstick
Read More
PRICE ON AMAZON
BEST MOISTURIZING
Madame Gabriela Red Lipstick
Read More
PRICE ON AMAZON
BEST LONG-LASTING
Fenty Beauty by Rihanna
Read More
PRICE ON AMAZON
BEST KISSPROOF
Maki Yika Burgundy Red Lipstick
Read More
PRICE ON AMAZON
BEST HYDRATING
ILIA – Color Block Lipstick
Read More
PRICE ON AMAZON
13 Best Red Lipsticks for Dark Skin for Charismatic Lip Looks
It wouldn't be right if you don't show your love to this best red lipstick for dark skin lovelies by Revlon. The high-impact lipstick color is an iconic formula and is popular among beauty enthusiasts. It feels so comfortable that you won't take it off. Thanks to vitamin E and avocado oil, the formula nourishes and moisturizes lips while leaving a super lustrous shine. Each stroke gives you a powerful lip look to make a bold style statement.
Pros
Sheer finish
Rich pigment
Creamy texture
Doesn't weigh down
Best for combination skin
Cons
Mere hints of red, not absolute red
BUY NOW
2
BEST NON-DRYING FORMULANYX Professional Matte Lipstick
BUY ON AMAZON
This NYX Professional's OG red shade lipstick is a cult favorite as the color is dynamic. You can effortlessly doll your lips in a bright, rich pigment that never feels dry. This red lipstick for dark skin tones comes with a matte finish and is perfect for ladies who prefer vibrant and not-so-dewy lip looks. The bold lipstick goes on smoothly without hindrance to sculpt your cupids perfectly. This unapologetic hue will let you win every event and opportunity, be it a job, business meeting, or date.
Pros
Smooth formula
Perfect shade
Keeps lips moist
Cruelty-free Formula
stays in place
Cons
Some may find the shade orange or pink on their skin
BUY NOW
3
BEST MATTE FINISHMaybelline New York Color Sensational Lipstick
BUY ON AMAZON
A satin red lipstick is what you need to begin your slay game. The Maybelline New York lipstick is designed with special pigments that revive dull lips within the blink of an eye. This dark-skin-red lipstick leaves a stunning and sensational color with every use. Your cupids will never feel dry as the formula is made with honey nectar that offers maximum hydration and moisturization. The unique pointed bullet-shaped tip ensures precise gliding on the curves for a flawless look.
Pros
For normal skin type
Matte, satin finish
Great stay power
Budget-friendly
Aligns with neutral and pink undertone
Cons
Melts if not stored in cool place
BUY NOW
4
MOST COMFORTABLEMilani Color Statement Lipstick
BUY ON AMAZON
Milani knows what your lips need. The brand offers a wide range of lipstick colors for women of all ages and skin tones that last all day. And this best red lipstick for brown skin is no different. Whether you're traveling on a hot sunny day or planning to attend a summer concert, the perfect shade won't fade away easily, even on your toughest days. The infused vitamins make the nourishing so you can achieve healthy lips throughout the day. Amp up your confidence by wearing this bold lipstick and attract eyeballs.
Pros
Creamy formula
Suits brown skin tone
PETA-certified
Comfortable wear
Versatile lipstick color
Cons
BUY NOW
5
BEST GLOSSY RED LIPSTICKAlmay Smart Shade Butter Kiss Lipstick
BUY ON AMAZON
For those biased toward glossy, radiant red lipsticks, here comes a great deal for them. The Almay bright red lipstick for dark skin tones is available in a gel format and provides full to medium coverage with a shiny finish. It's perfect for on-the-go touchups and preps you for different occasions without frustration. Whether it's a girl's night party or an evening date, quality lipstick lets you achieve sassy looks anytime, anywhere. Carry this formula in your handbag, and get ready to dazzle.
Pros
Hydrating formula
Hypoallergenic
Dermatologist tested
Glossy finish
Includes a protective case
Cons
Needs frequent reapplications
BUY NOW
6
BEST LIGHTWEIGHTWet n Wild Megalast Catsuit Matte Liquid Lipstick
BUY ON AMAZON
The Wet n Wild lipstick accentuates your beauty. The liquid deep red lipstick for dark skin is perfect for creating some serious lip styles right from the comfort of your home. You can't resist using this highly pigmented formula as it fulfills your dream of getting into the spotlight. The ultra-precise liquid promises high performance and offers intense pigmentation. You can never doubt its potential. The formula doesn't dry your lips and locks hydration for a fuller and thicker lip appearance.
Pros
Lightweight
Vivid color
Long-lasting
Comfortable wear
Includes a brush applicator
Cons
All may not like the shade
BUY NOW
7
BEST MOISTURIZINGMadame Gabriela Red Lipstick
BUY ON AMAZON
Madame Gabriela knows what it needs to prepare for a fashion runway. A red lipstick!! The clean, moisturizing natural lipstick is a true classic that aligns with all skin tones and puts your best face forward. It's a blend of unique ingredients, such as manuka honey, shea butter, avocado, sunflower, and rosemary oils. These natural stuff exhibit antioxidant properties to heal chapped and damaged lips. Our analysis of the product shows that the formulation is easy to apply and adheres to the lips for long hours.
Pros
Satin finish
Sulfate-free High lipstick
color payoff
Moisturizing formula
No gluten or artificial scent added
Cons
BUY NOW
8
BEST LONG-LASTINGFenty Beauty by Rihanna
BUY ON AMAZON
Rihanna loves dazzling in a bright red lip look. And if you too want to be a showstopper like her, this dark red lipstick for dark skin tone by Fenty Beauty needs to be in your makeup collection. The sensational lip color keeps your slay game on throughout the day. The rich pigment perfectly fills the gaps and offers a pro-like finish in a few strokes. Wear it once and forget reapplication, this Stunna Lip Paint won't feather and stay kissable smooth.
Pros
12-hour long-wear
Soft and precise brush
Weightless
Cruelty-free
Matte finish
Cons
BUY NOW
9
BEST KISSPROOFMaki Yika Burgundy Red Lipstick
BUY ON AMAZON
Allow us to introduce this Maki Yaki red lipstick. The burgundy gothic lipstick color lets you stand out from the crowd. It's perfect for achieving bold lip styles and expressing your style. Maki Yaki matte red lipstick for dark skin is a long-lasting formula that stays for up to 24 hours without transferring. You can sip coffee or eat your favorite eatables without fearing sticking and fading. The formula is so lightweight and creamy that you won't feel you have applied anything. The bold lipstick goes on seamlessly without pulling or skipping.
Pros
Kissproof
Water-resistant
Smudgeproof
Easy to apply
High-coverage lip color
Cons
BUY NOW
10
BEST HYDRATINGILIA – Color Block Lipstick
BUY ON AMAZON
ILIA – Color Block Lipstick is a supreme, high-impact lip color ready to take you to the next level. The true red formula is handcrafted with lush ingredients like organic castor oil that hydrate and nourish your lips with utmost care. You'll get four times the intensity than conventional concoctions with a creamy finish. To achieve perfect red lips for dark skin tones, ILIA is your go-to partner. The long-wear lip tint adds an instant boost of color and hydrates lips for all-day dewy looks.
Pros
Vegan
Plumps lips
Boosts elasticity
Dermatologist-tested
Non-comedogenic
Cons
BUY NOW
11Fifth & Skin Better'n Ur Lips
BUY ON AMAZON
Pamper dry lips with a moisturizing lipstick color enriched with organic butter, essential plant oils, and botanical extracts. The berry red is a bright red hue with a blue base. The botanical-rich formula features the goodness of vitamins and antioxidants that protect lips from free radical damage. This best matte red lipstick for dark skin is ideal for everyday use that you'd love to wear for evening events and meets or chit-chat catch-ups with your BFF.
Pros
Lead-free
Non-GMO product
Soothing scent
Paraben-free
Contains 85% organic ingredients
Cons
Requires multiple applications
BUY NOW
BUY ON AMAZON
Celebrate your beauty or express your fashion sense and creativity with a new-age red shade of lipstick. This Hanlady's red lipstick on dark skin tone runs precisely while sculpting your lips like a pro. You can design any look in minutes for any occasion. No more effort is needed, please! Just glide the creamy formula and unlock your true beauty. This pigmented red liquid comes with a matte finish and a smudge-free feature. The magical concoction locks in color and looks fresh from AM to PM.
Pros
Vegan
Non-transfer formula
16-hour long-wear
Not tested on animals
Offers full-coverage color
Cons
Some people might not like the shade
BUY NOW
13Miescher Red Matte Lipstick Tube
BUY ON AMAZON
The Miescher red lipstick will blow your mind. The 2-in-1 formula is a high quality lipstick cum face paint stick that promises you vivid color effects. Infused with plant-based ingredients, the gentle formula sits well on the lip contours without irritating the skin. It's one of the best red lipsticks for dark skin that comes with a silky oily cream-like texture to ensure smooth and accurate glides. You can easily mix this facial painting stick with other bright hues to draw a stunning art effect. Based on our observations, the stick is strong and won't break in the middle.
Pros
Fast-drying lipstick
Easy to remove
Travel-friendly
Unique stick design
Non-greasy
Cons
Not a perfect shade for all
Keeping red lipstick in your makeup collection prepares you for ready-to-go styling looks. We hope you have found our top recommendations for the best red lipsticks for dark skin useful. Let's go through our user guide below which will aid you in finding the best formula.
BUY NOW
How to Pick a Red Lipstick for Dark Skin Tone?
Here are a few points to look for while choosing a red lipstick for dark skin women.
Ingredients
Choose a lipstick made with natural ingredients like honey nectar, vitamins, essential oils, etc. Such quality lipsticks provide a vibrant hue while keeping lips healthy. Avoid formulas infused with parabens, sulfates, gluten, etc., that may irritate the skin and lead to dryness and flakiness.
Finish
The best red lipstick for dark skin can come with different finishes, from matte to creamy, glossy, satin, and sheer. You can try any finish as per your preference. However, you may want to apply a gloss with matte lipsticks to add a subtle dewiness. Or, you may mix lipsticks of different shades and finishes to create custom looks.
Undertones
Knowing your undertones while purchasing red lipstick for darker skin can help you choose the right red shade. Skin undertone refers to the original color of your skin that remains permanent. It doesn't change, unlike your top skin tone or color. Typically, there are 3 types of undertones- warm, cool, and neutral. Warmer undertones denote hues of golden, yellow, peachy, and similar undertones. Colors like oranges and brick-toned reds look great on warm undertone dark skin women. Cooler undertones are identified with pink, blue, and red hues. Lipstick shades like wine red, maroon, burgundy, etc., are the best for this undertone type. Neutral undertones are a blend of warm and cool undertones. Folks with neutral undertones may pick any shade of red.
Now that you've understood how to pick the best red lipsticks for dark skin tone, let's learn how to test different shades of red.
Which Red Shade Will Look Good on You?
There's a wide spectrum of red hues which includes multiple colors, from deep and dark red to wine red, burgundy, and more. The secret to knowing which red shade will enhance your beauty lies in the undertones. Here's how you can determine the shade.
Red lipsticks for warm and neutral undertones
Women with warmer undertones complimented by dark complexion can try different bold red shades without fearing looking too overwhelming. Colors like brick-toned reds, orange-reds, etc., align with your deep skin tone and undertone perfectly. People with a neutral undertone can play with intense colors of the red spectrum.
Red lipsticks for cool undertones
The best red lipstick for black skin that has a blue base is best suited for individuals with cool skin tones with dark skin tones. Hues like maroon, purple, chocolate brown-reds, wine reds, etc., are ideal for deep complexion individuals. These people must avoid lipsticks with a white base as they make lips appear ashy.
After choosing your dream red lipstick shade, here are some tips you can follow to apply it correctly.
Tips to Apply the Best Red Lipstick for Dark Skin Tone
Follow the given tips to learn how to create perfect red lip looks.
Exfoliate your lips
Start with exfoliating your lips. Remove accumulated buildup and dead skin cells to a ensure smooth application. You can use a soft toothbrush or lip scrub to exfoliate the skin.
Use a moisturizing lip balm
Don't forget to apply a moisturizing lip balm before dolling your lips in a rich, creamy red lipstick color. This will create a sleek and smooth canvas to facilitate easy lipstick gliding.
Apply your favorite red shade
After choosing your favorite red shade, glide the lipstick on your lips. Begin from the center and run to the edges to cover the corners. Finish your look with a lipliner to create highlighting effects.
Conclusion
The best red lipsticks for dark skin are cult classics that are perfect for achieving flawless lip looks throughout the year. Be it summer, winter, or autumn, the shade is super versatile and compliments well with skin complexion with any outfit. Reds add a subtle glam to your overall looks and prep you for all occasions. Besides leaving a vibrant, classy hue, the products mentioned above moisturize and nourish lips to improve lip health. While choosing a red lipstick, look for a few factors like ingredients, finish, and undertone, to find the best pick.
The Beauty of Flowers: Nature's Masterpiece
SEO Meta Description
Discover the enchanting world of flowers. Explore their vibrant colors, diverse species, and the many ways they captivate our senses. Learn about the significance of flowers in culture and nature.
Imagine a world without flowers. It would be a world devoid of color, fragrance, and natural beauty. Flowers are not just plants; they are nature's poetry in bloom. In this comprehensive article, we will take you on a journey through the mesmerizing realm of flowers, from their botanical intricacies to their cultural symbolism.
Flower: A Marvel of Nature
Flowers are the reproductive structures of angiosperms, the most diverse group of land plants. They come in an astonishing array of shapes, sizes, and colors. These botanical marvels serve a crucial role in the plant kingdom by facilitating pollination, ultimately leading to the production of seeds and the continuation of plant species.
The Anatomy of a Flower
To truly appreciate flowers, let's delve into their anatomy. A typical flower consists of several parts:
1. Petals
Petals are the colorful, often scented, leaf-like structures that surround the reproductive organs of the flower. They serve to attract pollinators such as bees, butterflies, and birds.
2. Stamens
Stamens are the male reproductive organs of a flower, comprising the filament and anther. The anther contains pollen, which is crucial for fertilization.
3. Pistil
The pistil is the female reproductive organ, consisting of the stigma, style, and ovary. It receives pollen and facilitates fertilization, leading to seed formation.
4. Sepals
Sepals are green, leaf-like structures that protect the developing flower bud. They play a role in maintaining the flower's integrity.
The Language of Flowers
Throughout history, flowers have conveyed messages and emotions. This phenomenon, known as floriography, was particularly popular during the Victorian era. Different flowers symbolize various sentiments:
Roses: The quintessential symbol of love and passion.
Daffodils: Representing new beginnings and hope.
Lilies: Signifying purity and virtue.
Tulips: Often associated with perfect love.
Cultural Significance
Flowers hold immense cultural significance across the globe. Here are some examples:
1. Weddings
Flowers are an integral part of weddings, symbolizing love, happiness, and new beginnings. From bouquets to centerpieces, they adorn every aspect of the ceremony.
2. Funerals
In many cultures, flowers are offered as a mark of respect and to convey condolences. Lilies and chrysanthemums are common choices for such occasions.
3. Festivals
Numerous festivals, like the Cherry Blossom Festival in Japan and the Rose Parade in the United States, celebrate the beauty of specific flowers.
The World of Edible Flowers
Did you know that many flowers are not only visually appealing but also edible? These blossoms can add a unique touch to your culinary creations. Some popular edible flowers include pansies, nasturtiums, and violets. However, always ensure that the flowers you consume are safe and pesticide-free.
Flowers in Medicine
Flowers have not only aesthetic but also medicinal value. For centuries, various cultures have used flowers and their extracts for healing purposes. For instance, lavender is known for its calming properties, while calendula is used for its anti-inflammatory effects.
FAQs about Flowers
Q: Can I grow flowers indoors? A: Yes, many flowers can thrive indoors if provided with the right conditions, including sufficient sunlight and proper care.
Q: Which flower symbolizes friendship? A: The yellow rose is a classic symbol of friendship and joy.
Q: Are there any endangered flower species? A: Yes, several flower species are endangered due to habitat loss and over-harvesting. Conservation efforts are underway to protect them.
Q: How can I make cut flowers last longer in a vase? A: To extend the life of cut flowers, change the water regularly, trim the stems, and avoid placing them in direct sunlight or near heat sources.
Q: What's the world's largest flower? A: The Rafflesia arnoldii, native to Southeast Asia, holds the title of the world's largest flower. It can reach up to three feet in diameter.
Q: Do all flowers have a scent? A: No, not all flowers are fragrant. Some are prized for their appearance alone.
In Conclusion
Flowers are more than just botanical wonders; they are a source of inspiration, a means of expression, and a testament to the intricate beauty of the natural world. Whether they are adorning our gardens, accompanying us on life's significant moments, or simply brightening our day, flowers continue to enchant and uplift us. Embrace the beauty of flowers and let them remind you of the vibrant tapestry of life
Flowers in Art and Literature
Flowers have long been a muse for artists and writers alike. From the intricate floral motifs in ancient tapestries to the vivid descriptions of gardens in classic literature, flowers have played a prominent role in creative expression.
Famous Floral Artworks
Sunflowers by Vincent van Gogh: This iconic series of paintings captures the beauty and vitality of sunflowers, symbolizing the artist's passion and optimism.
Water Lilies by Claude Monet: Monet's water lily series is a testament to his fascination with the interplay of light and nature. These paintings transport viewers to the serene world of his garden.
Literary References
Alice's Adventures in Wonderland by Lewis Carroll: In this beloved classic, Alice encounters a garden of talking flowers, each with its distinct personality and quirks, adding whimsy and charm to the story.
The Secret Garden by Frances Hodgson Burnett: The novel's hidden, neglected garden symbolizes the transformative power of nature and renewal.
The Science of Flower Colors
Have you ever wondered why flowers come in such a dazzling array of colors? The pigments responsible for these vibrant hues are anthocyanins, carotenoids, and chlorophyll.
Anthocyanins: These water-soluble pigments produce colors ranging from red and purple to blue. They are responsible for the striking crimson of roses and the rich purples of violets.
Carotenoids: Carotenoids create yellow and orange shades. You can thank carotenoids for the sunny brilliance of daffodils and marigolds.
Chlorophyll: Though primarily associated with leaves, chlorophyll can also lend a green tint to certain flowers, like green orchids.
The Fragrance of Flowers
The captivating scent of flowers has the power to transport us to different times and places. Fragrance is a vital part of a flower's reproductive strategy, as it attracts pollinators. Here are a few iconic scents:
Lavender: Known for its calming properties, lavender's sweet, herbaceous scent is a favorite in perfumes and aromatherapy.
Roses: The classic fragrance of roses is often described as sweet and romantic. Rose essential oil is highly prized in the perfume industry.
Jasmine: With its heady, exotic aroma, jasmine is a key ingredient in many traditional perfumes and teas.
The World's Most Unique Flowers
Nature never ceases to amaze with its diversity. Here are some of the world's most unique and rare flowers:
Corpse Flower (Amorphophallus titanum): This enormous flower is infamous for its putrid odor, akin to rotting flesh, designed to attract carrion beetles and flies for pollination.
Ghost Orchid (Dendrophylax lindenii): Native to Florida, this orchid is nearly invisible when not in bloom, with ghostly, translucent petals.
Carrion Flower (Stapelia gigantea): Much like the corpse flower, this succulent blooms with a scent reminiscent of rotting flesh, drawing in flies for pollination.
Flowers and Mental Well-being
The presence of flowers can have a remarkable impact on our mental and emotional well-being. Studies have shown that exposure to flowers can:
Reduce Stress: Simply being around flowers has been linked to lower stress levels and increased feelings of calmness.
Boost Mood: The vibrant colors and pleasing scents of flowers can elevate mood and promote a sense of happiness.
Enhance Creativity: Flowers can stimulate creativity and problem-solving abilities.
Conclusion
Flowers are not just ornaments in nature's garden; they are an intricate part of our lives, offering beauty, symbolism, and a connection to the natural world. Whether you're a gardener, an artist, a scientist, or simply someone who appreciates the simple joy of a fresh bouquet, flowers touch our lives in profound ways. So, take a moment to stop and smell the flowers, and let their beauty brighten your day.
The Skin Benefits of Multani Mitti Clay, Plus 6 DIY Recipes
Every morning, I always found a small cup on my grandmother's kitchen counter with a smooth mixture of brownish clay, milk, and turmeric. After the morning hustle and bustle subsided, she'd apply it to her face, wait for 10 minutes, and rinse it off.
It was a ritual she followed religiously, claiming it was the secret to her smooth and glowing skin.
I often wondered what the clay was, and it was only much later that I realized that it was Multani mitti.
Also called fuller's earth or mud of Multan, this ingredient has been used by homemakers like my grandmother and mother as well as skin experts for decades.
It's also a staple ingredient in herbal formulations, Ayurvedic beauty treatments, and ubtans — Ayurvedic treatments to cleanse and detox the body often used before traditional Indian weddings.
Whether it's a tried-and-true skin care regimen, how often you wash your hair, or the cosmetics you're curious about, beauty is personal.
That's why we rely on a diverse group of writers, educators, and other experts to share their tips on everything from the way product application varies to the best sheet mask for your individual needs.
We only recommend something we genuinely love, so if you see a shop link to a specific product or brand, know that it's been thoroughly researched by our team.
Was this helpful?
What is Multani mitti?
Multani mitti is a mineral-rich clay-like substance that gets its name from its city of origin, Multan in modern day Pakistan. With a texture that's much finer than clay and with a higher water content, Multani mitti is known for decolorizing oil and other liquids without harsh adverse reactions.
It's composed of hydrated aluminum silicates and is rich in magnesium chloride and calcium bentonite, a composition similar to bentonite clay. It's found in a large range of natural colors like brown, green, and white.
Multani mitti is known as fuller's earth in English for its historic use by textile workers known as "fullers."
"Fuller's earth was popularly mined in the state of Multan and exported to other regions of the Indian subcontinent. Thus, it came to be known as Multani Mitti," says Jatin Gujrati, founder of Ayurvedic lifestyle brand Vedix. "Princesses and affluent women in Indian history always had a stash of Multani mitti along with sandalwood paste and gram flour, which they used for beauty treatments."
A prime destination on the silk route, traders brought home Multan's clay-like soil, and women used it extensively on their skin and hair at that time.
During World War II, fuller's earth was mixed with water and applied to feet to reduce inflammation.
Multani mitti benefits
Multani mitti or fuller's earth is used as a natural cleanser and astringent, offering a host of benefits for the skin, including:
reducing oil
fighting acne
balancing and brightening skin tone
reducing pigmentation
Oily skin
According to Rinky Kapoor, cosmetic dermatologist and surgeon at The Esthetic Clinic, Multani mitti contains mattifying properties that balance skin oils and remove impurities.
It's especially beneficial for oily skin, as it helps open up clogged pores and absorbs excess sebum from the skin.
According to one study, Multani mitti removes dirt and absorbs excess oil.
Acne
According toVaishali Sawant, assistant medical director of Vedicure Healthcare and Wellness, Multani mitti is effective at treating acne. It does this by:
removing sweat, impurities, and dead skin cells
eliminating blackheads and whiteheads
controlling excessive oil production
shrinking the appearance of pores
cooling the skin
soothing irritation caused by inflammation
"The magnesium chloride in fuller's earth is a magic anti-acne worker," says Kapoor.
Skin tone and brightening
According to research, Multani mitti increases the cleanliness of the skin by removing dead skin cells from the surface, which results in:
increased retention of nutrients and moisture
improved circulation
a tightening effect
an exfoliating effect
These benefits provide a rejuvenated, glowing look.
Pigmentation
Multani mitti helps fight dark circles and sun damage due to its cooling effect on the skin.
"It gives you an even skin tone, tackles tanning and pigmentation, and is effective against sunburn, skin rashes, and infections," adds Sawant.
How to use Multani mitti
Multani mitti can be used in multiple ways as a beauty treatment, including:
face pack
face mask
spot treatment
exfoliant
Face pack
In India, tightening face masks are often referred to as face packs. Multani mitti makes a great face pack and can be combined with other ingredients to suit different skin types.
It has both a cooling and tightening effect, helps reduce lines, wrinkles, and pigmentation while cleansing the skin.
You can try products like Reshma Beauty Fuller's Earth Face Mask.
Spot treatment
Because of its oil-absorbing properties, Multani mitti makes a great spot treatment.
You can use a bit of a face mask or mix Multani mitti powder with water and dab it on pimples to dry them up and reduce redness.
In India, it's popularly mixed with neem when used as a spot treatment.
Face mask
Multani mitti can be mixed with other ingredients to create a moisturizing and brightening face mask. Common ingredients include:
papaya
turmeric
aloe vera
egg whites
tomato pulp
yogurt
honey
avocado
lemon
These ingredients can help add moisture or brightness to the skin.
Exfoliant
Multani mitti is very effective in removing dead cells from the surface of the skin.
Use it as a gentle scrub by mixing it with orange peel powder or powdered oats.
DIY recipes
Want to give Multani mitti a try? The recipes below have you covered.
Simple face pack
For this face pack, you can use your favorite high fat milk if you have combination skin. Rose water works best for dehydrated skin.
Ingredients:
1/4 cup high fat milk of choice or rose water
1 tbsp. multani mitti powder
Directions:
Mix one tbsp. of Multani mitti with 1/4 cup milk or rose water
Apply to a clean, dry face.
Leave on for 10 minutes.
Rinse with lukewarm water and pat dry.
Recipe courtesy of Manasi Shirolikar, head dermatologist at Remedico.
Spot treatment
This quick and easy spot treatment helps dry up acne fast.
Ingredients:
1 tsp. food-grade sandalwood powder
1/4 tsp. turmeric powder
1 tbsp. Multanni mitti powder
2 tbsp. water
Directions:
Mix sandalwood, turmeric, and Multani mitti powder with water until you get a thick paste.
Apply directly to acne pimples and let dry. You can also leave it on overnight.
Rinse with lukewarm water and pat dry.
Recipe courtesy Jatin Gujrati of Vedix.
Cooling face mask
This simple face mask is moisturizing, brightening, and cleansing.
Ingredients:
1 tsp. sandalwood powder
1 tbsp. Multani mitti powder
2 tsp. coconut water
2 tsp. high fat milk of choice
Steps:
Mix the powders and liquids together.
Spread paste on clean, dry skin.
Leave on for 10 minutes.
Rinse with lukewarm water and pat dry.
Recipe courtesy Jeeshant Khan, formulations scientist at I am Love.
Exfoliating papaya mask
This exfoliating mask features the skin benefits of antioxidant-rich papaya.
Ingredients:
1 tbsp. Multani mitti powder
1 tbsp. papaya pulp
Directions:
Mix ingredients to create a paste.
Apply to a clean, dry face.
Allow to dry completely.
Wash off with lukewarm water and pat dry.
Recipe courtesy Sushant Shetty of Kaya Limited.
Moisturizing mask
For skin types that need extra moisture, mix your Multani mitti with equal parts aloe vera gel. Make sure it's food-grade and has no additives.
Ingredients:
1 tbsp. Multani mitti
1 tbsp. aloe vera gel
Directions:
Mix ingredients.
Apply to clean, dry face.
Leave for 10 minutes.
Wash off with lukewarm water and pat dry.
Lemon exfoliant
This simple exfoliant blend can help slough off dead skin cells and brighten with lemon.
Ingredients:
1 tbsp. Multani mitti
1 tsp. glycerine
1/4 tsp. lemon juice
1/2 tsp. rose water
Directions:
Mix ingredients to form a paste.
Gently massage onto clean, dry skin in a circular motion.
Rinse with lukewarm water and pat dry.
Lemon and other citrus fruits may cause skin irritation for some people. You shouldn't use lemon if you know you're going to be out in the sun, as doing so can increase your risk of sunburn and other side effects. Always do a patch test before you use lemon in your skin care routine.
When not to use Multani Mitti
People with highly sensitive or dry skin should avoid using Multani mitti. Because it absorbs oil, Multani mitti can leave your skin feeling thirsty.
If you have sensitive skin, it may lead to redness or irritation.
Always do a patch test to rule out sensitivity and allergy before using any new product.